With their wild scenery, Ba Be Lake, Pa Khoang Lake or T'Nung Lake have all attracted backpackers from across the nation and around the world.
1. Ba Be Lake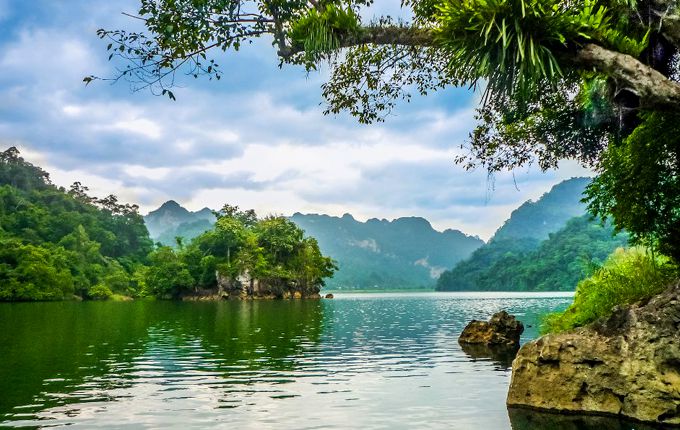 Ba Be Lake is one of the 100 biggest lakes in the world and used to be in the list of world's 16 most beautiful lakes. Located in the middle of limestone mountains in the Ba Be National Park, Bac Kan province, it has three branches, namely Pe Lam, Pe Lu and Pe Leng. Visiting Ba Be Lake, tourists can row their boats to explore caves and contemplate with their own eyes the impressive waterfall located upstream as well as savor the local specialties.
2. Thac Ba Lake
As one of the three biggest man-made lakes in Viet Nam, Thac Ba is located between Luc Yen and Yen Binh districts in Yen Bai province. It consists of more than 1,300 islets of various sizes with numerous fascinating caves, and all have a range of natural scenery. If you are keen on exploring nature, you should not miss this lake in the northwestern province of Yen Bai.
3. Pa Khoang Lake
Located some 20 km from the center of Dien Bien city, Pa Khoang Lake in Dien Bien District is near Highway 279. At the center of the lake stands an islet called "the island of cherry blossoms" because approximately 400 cherry trees are growing on it. It is idyllic to contemplate cherry blossoms in late December and early January.
4. Suoi Hai Lake
Suoi Hai Lake stands at the foot of the Ba Vi Mountain and is 70km from Ha Noi. Covering 90ha, it is home to 14 islands of different sizes. By boat, tourists can visit some small islands shooting from the surface of the lake, many of which provide habitats for many species of birds.
5. Lap An Lagoon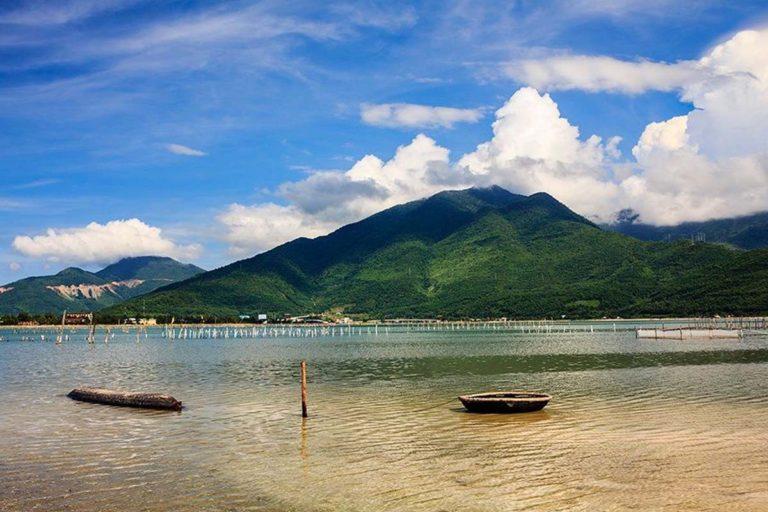 Lap An Lagoon in Hue city is also called An Cu. It is located near Highway 1A at the section going to Lang Co Town, Phu Loc District. Lying right at the foot of Phu Gia Pass, the Lagoon is surrounded by the imposing Bach Ma mountain range and Lang Co bay. Tourists are advised to visit this place from March to June, an ideal time for photography.
6. T'Nung Lake
T'Nung Lake, widely known as Bien Ho, is to the northwest of Pleiku City of Gia Lai province. It is called "Pleiku's eyes". Going through a pine forest to the lake, tourists will be surprised at its turquoise water.
7. Lak Lake
Lak Lake, one of the biggest lakes in Vietnam, is located in Lak district and over 50 km from Buon Ma Thuot City. Here, riding elephants around the lake provides never-forgotten experiences for tourists, especially foreigners. These activities, together with delicious local specialties, aim to make visitors never forget their visit to this place.
8. Ta Dung Lake
Ta Dung Lake used to be a valley adjacent to Ta Dung Mountain, in Dak Som Commune, Dak G'long District, Dak Nong Province. Like a blue mirror in the wild Central Highlands forests, Ta Dung fills visitors with excitement. Many have called the lake "the Ha Long Bay of the Central Highlands".
9. Tuyen Lam Lake
Tuyen Lam Lake, covering over 360 ha, is formed from Tia spring. It lies mostly in a valley and is surrounded by pine hills. Stillness coupled with wildness are what tourists will experience here. Located near the lake is Truc Lam Zen monastery, one of Vietnam's biggest Zen monasteries.
10. Tri An Lake
O and Dong Truong islands are the most attractive in Tri An Lake in Dong Nai province. Contemplating the sunrise or resting in tents in the evening are what tourists should experience. And two local dishes that they should not miss are hemibagrus (a species of catfish) soup and hemibagrus cooked with fish sauce.