We are will take you up to forest and down to sea. This is a brief of top 7 adventurous activities in Vietnam for those looking for unique and amazing experience.
#Conquer the roof of Indochina
It is Fansipan Mountain with 3143m high. Not being a legend Everest mountain but this is the highest peak of Southeast Asia. Fansipan becomes must- visit place for those has a huge passion with nature and enjoy conquering new things. If you reach to the roof of Indochina by cable car cable, it is easy. It will be great when you climb to the peak by your own foot. You will see firsthand spectacular scenery with white cloud layers floating.
#Drive motorbike on loops in Northwest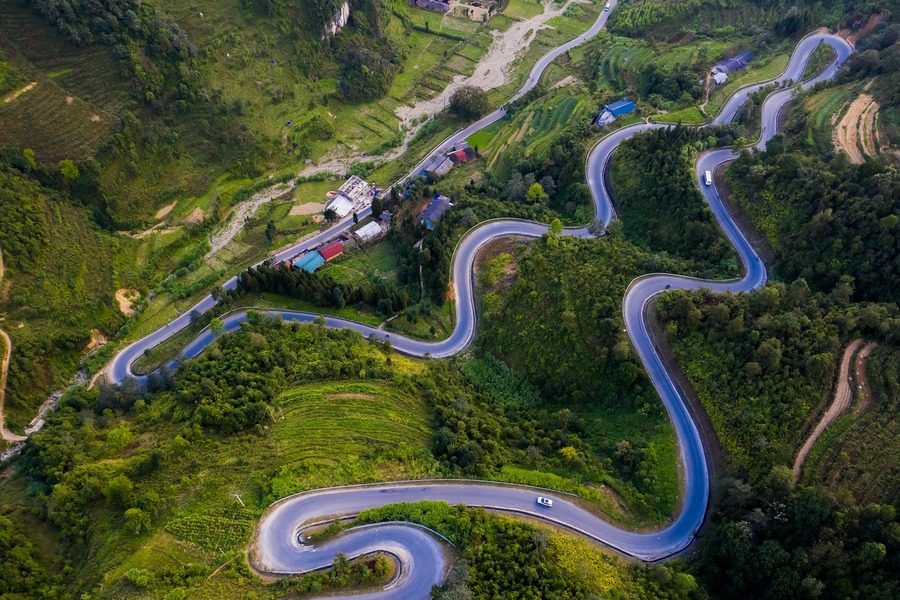 The staggering natural beauty of mountainous province in Northwest Vietnam always draws anyone come here. Jump on back of motorbike and drive on loops. The mountainscape is simply stunning. Let's explore Ma Phi Leng, O Quy Ho, Pha Din, Khau Pha.
#Kayak on Ha Long Bay
Definitely, Kayaking is the favorite activity of foreign tourist when they come to Ha Long bay. You will get closer to water surface, float among forest of towering mountains. Use paddles and explore by yourself to where others boat cannot reach to. Ensure you are impressive with karts system in hidden caves.
#Explore the largest cave in the world
Sure, If you can explore Son Doong in this Vietnam trip, it will certainly the most great memory. It's a discovery underground. You need to overcome countless challenges to admire this millions years old beauty. Stalactites and stalagmites system in the cave is truly a masterpiece. They are unique, beautiful in the huge size. The cave rivers or wild forests in cave will become first impressions in your soul. With the volume cave of 31.5 million cubic metre, you will feel that you are standing in somewhere far away Earth.
#Wander in National Parks
Vietnam possesses many national parks from North to South such as Xuan Thuy, Bach Ma, Phong Nha, Yok Don, Tram Chim, Phu Quoc especially, Tra Su, Can Gio or Cuc Phuong. Every national park features distinctive fauna and flora system. There is a detail summary about the best national parks in Vietnam. You can read here
#Trekking Ta Nang Phan Dung
Ta Nang- Phan Dung leads up the most beautiful trekking routines in Vietnam. It stretched 50 km from Lam Dong, Ninh Thuan to Binh Thuan. It is very dangerous without guiding of locals especially in the first time come here. You will walk through immense jungles, wade cross the streams, climb the hills. There will be many crossroads, three way intersections like a maze that you could lost at any time. But you will have great moments when trekking under tall trees, running on hill trails, waking up and view spectacular dawn sight.
#Dive in the emerald island
Phu Quoc is one of the greatest places in Vietnam for those looking for a chance to explore marine life. Sitting among ocean, Phu Quoc is known as an emerald island with white sandbars, clear water as well as the diverse arrays of marine. Don't miss the chance to immerse into the breath of sea like a mermaid.
#Cycle around Mekong delta
Mekong Delta possesses a unique and attractive beauty with river life. This land is no like others, it looks like a maze of rivers, canals and lush islets. Cycling through small village, zipping past tiny house, pastry field, peddling beneath tall trees and stopping by local houses, the people here is extremely hospitable. Smiles are always on their lips when you visit.
These adventurous activities are not too much information but hope you have additional options to make your own Vietnam trip more meaningful. And if you want to know further information, you don't hesitate to contact with us at evivatour.com. We also will support for you about applying for Vietnam visa at Getvisavietnam.com.