Thing Long is a new beach in Hai Hau, Nam Dinh that has only recently become popular. The beach is 3km of soft sandbanks and Casuarina forest that frames an inlet of sparkling blue ocean.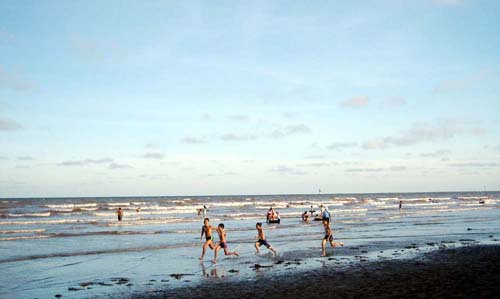 An untouched beach
The scenery at Thinh Long is unequalled by other beaches on the coast of Northern Vietnam, due to its untouched beauty and clean waters. Thinh Long is lucky in that it isn't affected by the infamous hot winds from Laos, so the weather is cooler with a light but pleasing breeze bringing relief from the hot Sun. There are also some big but gentle waves, which makes Thinh Long an excellent spot for the beginner surfer. If you like to be more active than just working on your sun tan, you can also hire a canoe to ride round the seashore and explore rock islands off the coast. There are professional fishing villages at each end of the beach which are happy to welcome you and show you their way of life. Don't forget to taste the special dishes here because this place has wonderfully diverse and delicious seafood, and as fresh as it gets!
How to get there
The best way to get to Thinh Long beach is to rent a car with skilled driver or you can also drive a motorbike to get there. From Hanoi, follow national highway 1A and then Highway 21 to reach Nam Dinh – which is 80km from Hanoi.
From Nam Dinh, follow Do Quan bridge and keep going straight for another 55km you will reach the beach. Thinh Long beach may make a nice day trip away from Hanoi, though overnight stay is not recommended.