The One-pillar pagoda or Dien Huu pagoda, has one of the most special architectures in Vietnam. The pagoda is situated next to Ho Chi Minh Mausoleum, right in the center of Hanoi.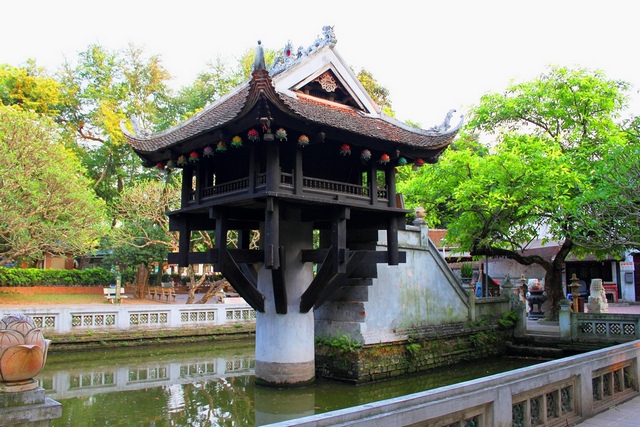 The pagoda started being constructed under Ly's dynasty in 1049. The legend goes that one night in 1049, King Ly Thai Tong dreamed of the Holy Lady (Phat ba Quan Am) sitting on a lotus and leading him to a similar building.
When he woke up, he was advised by Thien Tue monk to build the pillar-based pagoda like in his dream and topping it with the lotus of the Holy lady. Every year when it came to April 8th in Lunar calendar, the King came to the pagoda for Buddha bathing ceremony and afterwards, released a bird.
In 1105, King Ly Nhan Tong extended the pagoda and added Linh Chieu bond. However, time has erased everything but the limited area like what we see now. Near the pagoda there's a bodhi tree. This is the gift from Rajendra Prasad- Indian presidents to Ho Chi Minh President.
The pagoda now became one of the most meaningful symbols of Hanoi.