Phu Tho is a province located in the North-eastern part of Vietnam.
It shares the border with Tuyen Quang, Yen Bai, Vinh Phuc, Ha Noi, Son La, Hoa Binh provinces. With Viet Tri city as its capital, Phu Tho Province is only 80km away from Hanoi. Noi Bai International Air Port lies between the two cities, locating 50km to the North-west of Viet Tri City.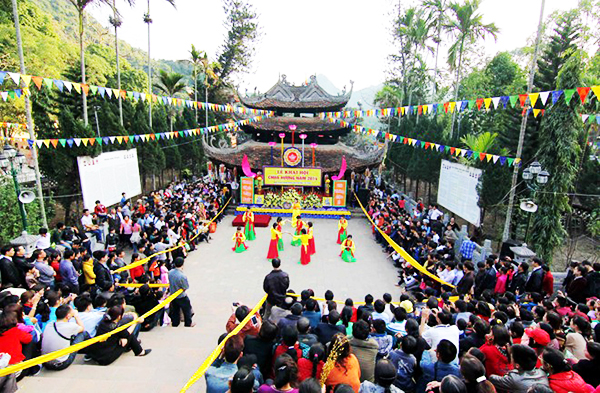 The province has a total area of 3528.1 km2. Phu Tho's location gives it an important mission: being the center of the Northern region of Vietnam. It is the gate connecting the north-western provinces and Hanoi, as well as other provinces on the Red River Delta. Thus, the topography of Phu Tho is extremely diverse, featuring all kinds of terrace such as mountains, hills, plains, etc. Among all of them, the large area of rich plains is considered as the strength of the province, as it allows a whole spectrum of tourism activities to develop: Eco-tours, amusement parks, resorts, etc.
The climate of Phu Tho is sub-tropical and monsoonal, with an annual average temperature of 23.5 °C (74.3 °F) and an annual average precipitation of 1700 mm. Precipitation is usually in the form of rain, which is most popular during the period between April and September.
Without a doubt, Phu Tho has a long and glorious history. It is regarded as the birthplace of the Vietnamese race. According to the myths, the Hung Kings, the first kings of Vietnam, chose this land to build the first capital on and named it "Van Lang". Nowadays, when you ask any Vietnamese what they know about Phu Tho, the first response you get in return will probably be the Hung Pagoda. This is the place where people worship the Hung King and also one of the most important historical sites of the nation.
The many traditional festivals taking place in Phu Tho differ from one another. Each of them embraced the most distinctive cultural values of more than 20 ethnic groups residing there. Hung Pagoda Festival, Phet- Hien Quan Festival, Bach Hac Festival, etc. are some of the most popular ones which attract thousands of visitors every year.