Besides celebrated historic relics, like other mountainous provinces, Dien Bien offers fascinating natural scenery which one should not miss.
A province in north-western Vietnam, Dien Bien adjoins Lai Chau Province and Son La Province of Vietnam, Van Nam Province of China and Phongsali province of Laos. It is constituted by 7 districts named Dien Bien, Dien Bien Dong, Muong Ang, Muong Cha, Muong Nhe, Tua Chua, Tuan Giao. The capital of the province is Dien Bien Phu, a city most known for its long and victorious history against French colonists on 7/5/1954.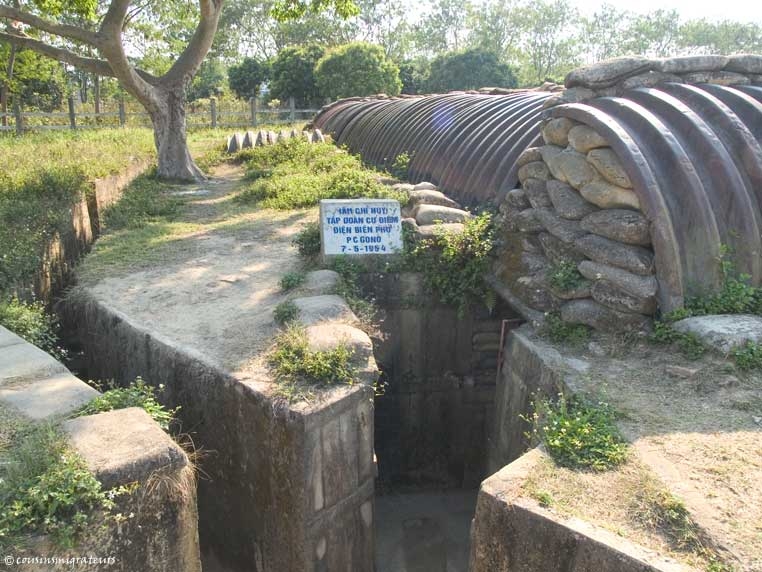 EMPLACEMENT ET HISTOIRE
Dien Bien is among the six mountainous provinces in Northwestern Vietnam. The district is next to Lai Chau and Son La provinces and has long borders with China to the North and Laos to West. Dien Bien City is located inside the heart-shaped Muong Thanh Valley, surrounded by numerous thick forests, hautes montagnes, narrow valleys and springs. The climate of Dien Bien is mountainous tropical whose temperature may fall below 0oC in cold season, while the highest temperature fluctuates around 28oC in hot season.
This province is proven to be one of the most ancient lands of Vietnam as many signs of ancient Vietnamese during 9-10th centuries have been discovered here. The name Dien Bien was given by King Thieu Tri – The 3rd king of Nguyen Dynasty in the year 1841. "Dien" means solid while "Bien" means frontiers, so the name means solid defensive frontiers.
The triumph of Dien Bien Phu Campain on 7/5/1954 made this rural area phenomenal all over the five continents of the world which ended 80 years dominated by colonial-half-feudal system of Vietnam. Sur 26/9/2003, Vietnamese Government signed the official document giving birth to Dien Bien City.
DIEN BIEN VESTIGES OF WAR
Attaching with the historic victory of Dien Bien Phu campain is a wide range of vestiges which are well preserved until present. Each of the vestiges reminds Vietnamese people as well as the international public of a fierce but proud battlefield during resistance war against French invaders. Among those heroic vestiges, the underground hideout of French General De Castries should be the most eloquent evidence of the bravery of Vietnamese troops, who fought incessantly for 54 days and nights to seize it. This historical monument has been being well preserved that still maintains its original shape, dimension and structure.
Hill A1, located in Muong Thanh Ward, plays a critic part in controlling the whole battle of Dien Bien Phu campaign. Standing on the top of Hill A1 while listening to a tour-guide briefing about the 1954 campaign, ones may have a sense of attending the battlefield. En outre, having a visit at cemeteries of Vietnamese soldiers scarified in the campaign should be good deep of visitors when coming to Hill A1.
Another indispensible vestige to mention is the command post of Vietnamese soldiers hidden inside the forest of Muong Phang commune. Ici, the renowned General Vo Nguyen Giap and Vietnamese military used to work and plan for the glorious Dien Bien Phu Victory.
Outre, Muong Thanh Airfield, Doc Lap Hill, Him Lam Hill, Dien Bien Phu Victorious Statue and Dien Bien Phu Victory Museum are recommended to visit.
DIEN BIEN UNIQUE LANDSCAPE
As a typical mountainous Northwestern area, Dien Bien gains lots of fame for being a venue of wonderful sceneries.
If ones go to Dien Bien from Hanoi, Pha Din Pass is promised to be met on your way. The pass is located at the height of 1000m surrounded by an upright cliff in one side and a deep gulf on the other side, with numbers of twists and turns, Pha Din Pass is really a challenge for any drivers. Cependant, if ones take time to stop on this "Frontier of Heaven and Earth" to enjoy its magnificent scenery, it would be an unforgettable memory.
Dien Bien is not lack of natural wonders, among which Pa Thom Cave and Pa Khoang Lake are the most stunning ones; each of the sites is named according to the commune it is located. Pa Thom Cave is a primitive caves in which ones may see fascinating formation of stalactites and stalagmites as well as arrangement of stone which all create amazing shapes, for example elephant's head or giant snake. Similarly, Pa Khoang Lake offer extraordinary view in which ones may witness a diversity of plants, various topography as well as hundred species of floating plants and animals. Sightseeing natural beauty on boat would provide tourists unique experience within mysterious picture covered by mist during spring or light sun and cool wind during summer.
DIEN BIEN SPECIALTIES
Dien Bien is favored by the Mother Nature with an ideal climate to produce a variety of specialties. Parmi lesquels, "Nep Nuong" Rice is the most popular one. Raised on stepped patty fields, the special type rice is exclusively available in Dien Bien thanks to its climate together with a logical canal system, which guarantees sufficient amount of water for rice fields at anytime. "Nep Nuong" then be used to cook unique dishes like "Xoi Nep Nuong", "Com Lam" and "Banh Day".
Mentioning about "Banh Day", ones may taste this food for several times in Hanoi or other provinces, but nowhere can be found such a special type of "Banh Day" like in Dien Bien. It's because "Banh Day" here is a specialties of H'mong ethnic minority, cooked by "Nep Nuong" Rice through a complex secret process only H'mong people know. This food also represents the cultural diversity of Dien Bien, in where there are 18 ethnic groups living happily together.
Outre, buffalo dried meat, "Mong Pe" wine and "Sau chit" wine are all famous specialties of Dien Bien Province which are waiting for you to explore.
CULTURE AND ETHNICITY
Le 21 ethnic groups in Dien Bien aslo contribute greatly to the advancement of the province's tourism. A survey in 2009 shows a population of 491,046 people of which 38% belongs to Thai ethnic group, 30% belongs to H'Mong ethnic group and only 20% belongs to Kinh ethnic group. Each of these major groups have developed and maintained many unique traditions, festivals, and cuisines, adding to the dynamic cultural life of this Northern province.
COMMENT ALLER LÀ
Although it is not impossible to reach Dien Bien Province by motorbike, tourists are recommended to get there by coach or airplane because it is very far from Hanoi (478km) and also very hard to go due to its mountainous characteristic. For ones who like traveling by coach to enjoy scenery on the way, coach stations in Hanoi like Giap Bat, My Dinh, Gia Lam or Luong Yen offer you high quality coaches with beds at a price varies between 350,000 - 400,000 VND. Spending a double amount of money, travelers would arrive at Dien Bien in only 1 hour by Vietnam Airlines airplanes.